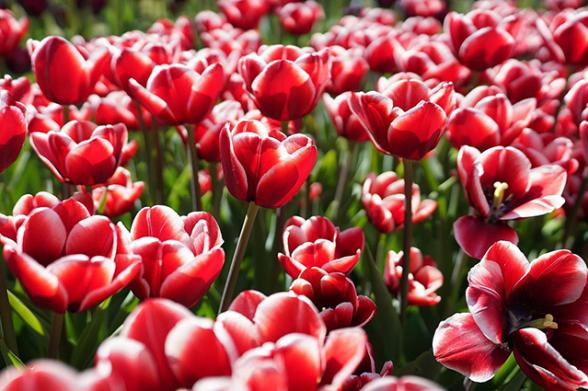 Bye bye, snow boots and winter coats. It's time to celebrate spring, and there are few places better than New York State, which  blossoms with lively activities and festivals, memorable exhibits, and natural beauty.
These are your must-see and must-do events and activities in New York State in spring.
Remember to social distance and wear a mask as required by state guidelines. Call ahead and check websites and social media to make sure attractions are open and available.
1. Celebrate Women's History

Credit: @rochwhole9yards on Instagram
Who runs the world? Powerful women have been forging a brighter future for all people throughout New York State's history and you can walk in their footsteps today!
Women's History Month is in March, but any time is a great time to celebrate what the women of New York have given to the world.
Discover more of the Best Places to Experience Women's History in New York State here.
2. Spring Skiing and Pond Skimming Events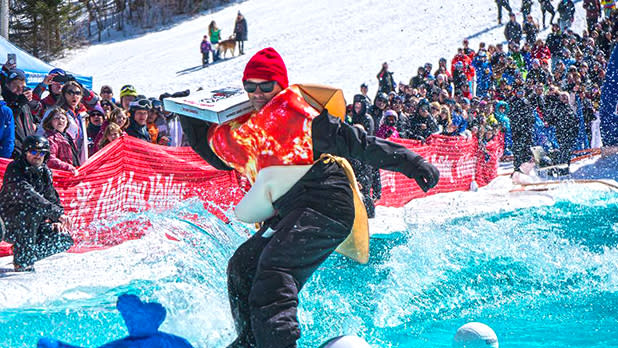 Credit:@holidayvalley on Instagram
New York has the most ski resorts of any state, offering high peaks, scenic trails, and fresh powder for skiers and snowboarders of all levels.
World-class skiing and snowboarding are always nearby, from the scenic Adirondacks slopes at Whiteface Mountain and Gore Mountain to Catskills favorites such as Hunter Mountain and Windham.
Just learning your way around the slopes? Resorts such as Holiday Valley and Peek 'n Peak in Chautauqua-Allegheny offer lessons to help make you feel more comfortable. Many mountains also offer adaptive skiing for all abilities in New York.
Spring is normally silly season at winter resorts, with fun activities like cardboard box races and pond-skimming events, such as the one pictured here. The goal is to get across the pond on your skis or snowboard for a prize.  Or a dunking if you don't make it across.
3. 'Tap' Into Maple Weekends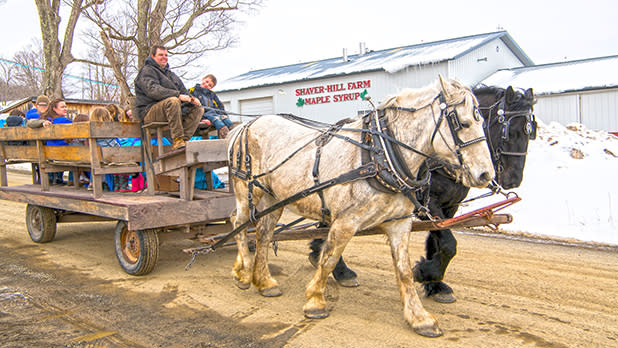 Each year as the snow melts and temperatures begin to warm up, maple season in New York State comes alive.
During Maple Weekends in March,  visit farms across the state to (literally) tap into festivals, farm tours, and demonstrations featuring this delicious sugary treat.
Starting with the tapping of the trees and ending with the perfect pour atop your favorite sweet breakfast, learn how maple syrup is produced—right  in New York State. The maple happens to be New York's official state tree, so it should come as no surprise that the Empire State is also one of the world's top producers of maple products.
One taste of the real thing, and you'll never use artificial pancake syrup again!
4. See Blooms in Every Color at Flower Shows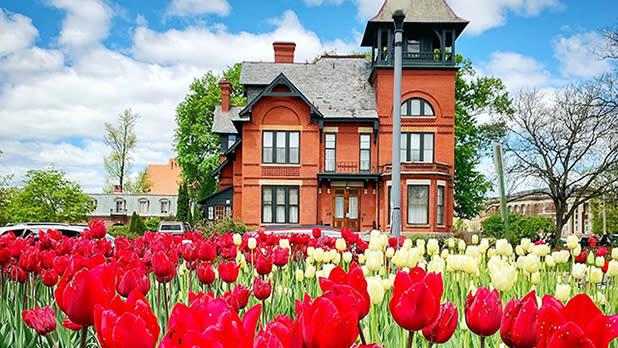 Credit: @shancroix3 on Instagram
New York is in full bloom in spring From flower shows to special exhibits at botanical gardens across the state, spring is New York's most colorful time of year.
Step inside celebrity floral designer Jeff Leatham's colorful kaleidoscope of flowers at the Orchid Show at the New York Botanical Garden,  through May 1.
Stroll among more than over 160 flowers, gardens, and outdoor living themed retail exhibits, and New York State wine, cider and spirit tastings at the Capital Region Flower & Garden Expo
In May, smell the lilacs at the annual crowd favorite Rochester Lilac Festival an enjoy the riot of color at the annual Albany Tulip Festival (pictured)

You don't have to go to Japan to enjoy delicate pink and white cherry blossoms, which typically reach their full bloom in April. The Brooklyn Botanic Garden's Cherry Watch offers all the deets on when to visit for the best blooms.
5. Tour Famous Wine Regions, Trails & Wine Festivals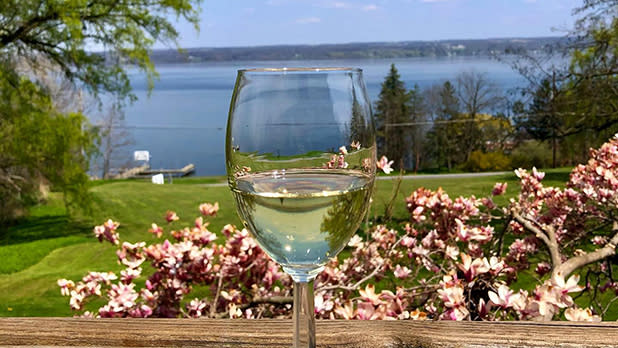 Credit: @lakesideprovidence on Instagram
The weather is warm but not too hot, trees are full of green leaves, and grassy fields are plush. There are few better ways  to enjoy the season (and life) than sipping a glass of delicious wine at vineyards at one or more of the wine regions of New York State
For a comprehensive list of wine regions, trails, and wineries in New York State, see here.
6. Explore Famous Film Locations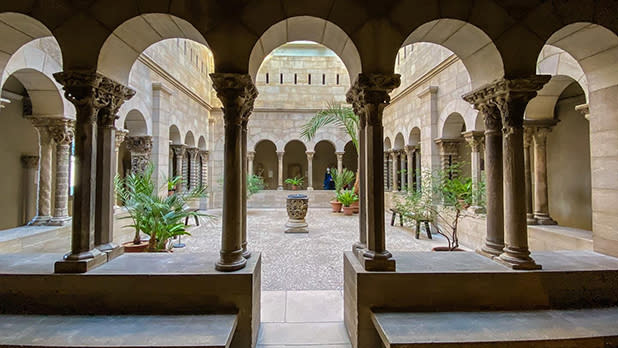 Credit: @thewitchytraveler on Instagram
Take your film fandom to the next level with a visit to New York locations that have appeared in famous movies, including some of this year's Academy Award nominees.
Go to the scene of Tony and Maria's first date in West Side Story at the stunning Met Cloisters (pictured). ecoXplorer Evelyn Kanter grew up nearby, so this was one of my childhood favorites – for its gardens, picture postcard views across the Hudson River and most of all for its priceless Medieval art collection, including the iconic 15th Century Unicorn Tapestries.
The Moondance Diner from tick, tick…BOOM! may not be located in NYC anymore, but you can still visit the Strand Bookstore in Union Square, with its famous 17 miles of bookshelves.
While Being the Ricardos was filmed in L.A., there's no better place to learn about the life and times of Lucille Ball and Desi Arnaz than at the Lucy-Desi Museum in Lucy's native Jamestown, NY.
Get even more ideas for places to go for film lovers from the I Love NY blog,  17 Great Movies and TV Shows Featuring New York Attractions.
And if being the first to see the best new films and the chance to rub shoulders with celebrities sounds like fun, put the Tribeca Film Festival (April 25-May 5, NYC) on your spring to-do list.
7. Find Your Perfect Picnic Spot

Credit: @kryptonist on Instagram
One of the best perks of spring is once again being able to dine al fresco, and New York State has so many places to eat with a view where you can whip up some BBQ on Memorial Day.
And of course, if you can do without the barbecue, just find a New York State Park near you and enjoy your long weekend.
For more ideas, check out the I Love NY guide to 12 of the Best Picnic Spots in New York State here.
8. Let World-Class Museums Make Your Rainy-Day Plans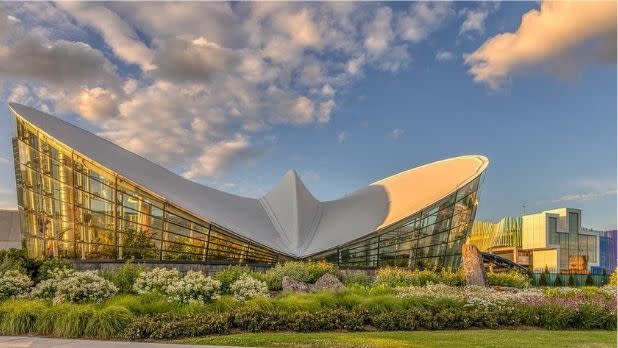 Credit: @dickbennettphotography-Instagram
There's a museum for every interest and every age in NY State. Don't let April showers spoil your fun.
Explore the I Love NY Museums page for endless indoor fun.
9. Go on a Tasting Tour of Outdoor Food Markets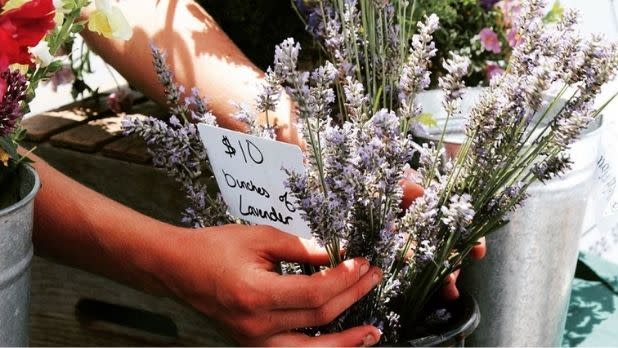 Credit: @designbyraegan on Instagram
Come springtime, food vendors, musical performers, farmers, and vintage collectors come together for amazing outdoor markets.
May 25 marks the reopening of the Watertown Farm and Craft Market in the Thousand Islands-Seaway, bringing delicious treats, fresh produce, and family programming back every Wednesday until October.
In New York City, save your appetite for the popular Smorgasburg, the largest weekly open-air food market in America! Next, and the monthly Bronx Night Market reopens, with delicious foods, live performances, and installations.
Give in to your sweet tooth during the Chocolate Expo at the Cradle of Aviation Museum in Garden City. With more than 60 vendors—featuring chocolates, gourmet foods, cheeses, wine, spirits, cider, and more—you'll find delicious chocolate treats in all shapes and sizes.
10. Soak up Outdoor Art & Culture in the Sun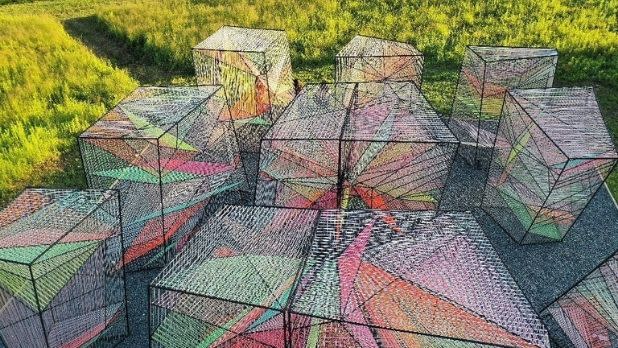 Credit: @wunderlust on Instagram
Sculpture, nature, and architecture, oh my! Art Omi (pictured), the 120-acre sculpture and architecture park in Ghent is the perfect venue to enjoy the warm weather and wake up your senses. Larger-than-life sculpture pieces scatter the wide open fields, begging you to pose and play with them.
The Hudson Valley's other famous sculpture park, Storm King is also open for the season.
Further west, in the mountains of Chautauqua-Allegany you'll discover over 250 large-scale sculptures at Griffis Sculpture Park, one of America's largest and oldest sculpture parks.
In May 19-22, New York City again hosts the Frieze Art Fair, showcasing over 65 galleries from across the globe at The Shed in Hudson Yards.
For outdoor performance art, the Public Theater presents Shakespeare in the Park in Central Park, from  late May through summer–and it's completely free to attend!
11. Plan a Hot Air Balloon Ride & See the Annual Red, White & Blue Balloon Rally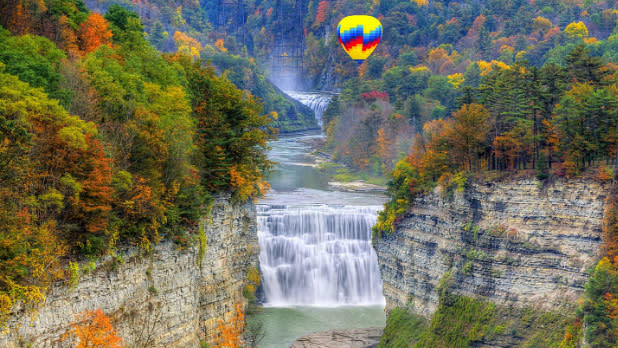 Take a hot air balloon ride over breathtaking State Parks. One of New York's most beautiful natural settings, Letchworth State Park (pictured), takes on an exceptionally ethereal quality as 20 enormous hot air balloons take to the sky six times a day May 27–30.
That's the magic of the Annual Red, White, & Blue Balloon Rally. The sight will be beautiful to watch from the ground as balloons float over the gorge, but if you're looking for the experience of a lifetime, consider taking a ride!
Call as soon as possible to inquire about availability for the rally, or for any day throughout the season. In the Adirondacks, take a sunrise or sunset ride across the Adirondacks and Lake George with SunKiss Ballooning.
12. Hop Aboard for a Historic Train Ride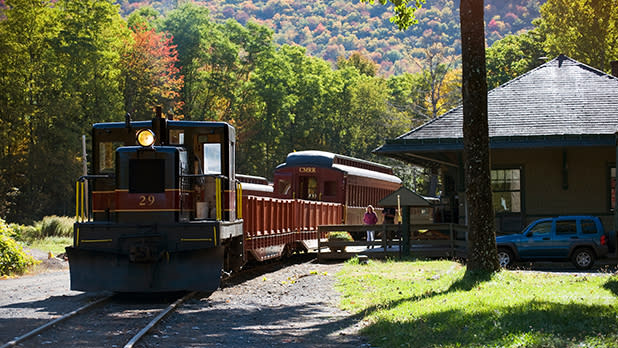 All aboard the Easter train(s)! You have two amazing options to celebrate the holiday and delightful weather with some festive furry friends.
The Cooperstown & Charlotte Valley Railroad (Central New York) will host two-hour round trip train rides with a larger-than-life Easter Bunny on weekends in April.  During your ride, you'll be treated to complimentary snacks and entertainment courtesy of the Bunny, and the train stops for an Easter Egg Hunt.
The Catskills Mountain Railroad (pictured) is also hosting a hopping good time on festively-decorated vintage trains traveling 1-hour non-stop from Kingston, with each passenger receiving a bag of candy.
13. Head Down to the LEGOLAND Reopening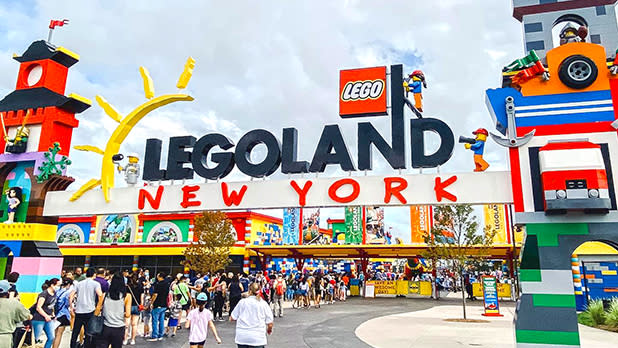 Credit: @kathybuccio on Instagram
If you have a LEGO®-obsessed kid (or are one at heart), get ready for LEGOLAND®'s grand reopening.
Explore seven themed "lands," each with its own rides, activities, and snacks. Get ready to splash around in a new water playground where you can build and race a LEGO® boat, go arrr at the new LEGO Pirates show, and more.
With so much fun for the whole family, you won't want to go home, and with the onsite LEGOLAND® Hotel you won't have to. Make your stay extra special with a night in a Pirate, Kingdom, LEGO® NINJAGO or LEGO® Friends-themed room.
14. Book Tickets to Long-Awaited Sporting Events

Credit: @evanflieskites on Instagram
Be a good sport and enjoy New York State games and races.
Yankee Stadium is the legendary home of the legendary New York Yankees.  Book tickets now for dates during the season.
The world-famous race track, Watkins Glen International re-opens for the season in April, so rev up that engine and get ready to put the pedal to the metal.
Bonus! Anyone with a valid driver's license can drive three laps around the very same track that has hosted 20 consecutive years of Formula One U.S. Grand Prix races. It's a rare chance to experience the course from the driver's seat and feel like a superstar. Your ticket to drive is just $25 and all proceeds go to the R.A.C.E. (Racing and Community Enrichment) Foundation.
In May, you can take on a different set of pedals at the annual TD Five Boro Bike Tour, the country's biggest bike ride in New York City.
15. Ride the Rollercoasters in Coney Island
The rides at Coney Island are open for the season, including the legendary and historic Cyclone roller coaster, often rated as the best wooden roller coaster in the world.
Stroll along its boardwalk of roller coasters and retro fairground rides, such as the  Wonder Wheel, to NYC's only Aquarium, and more.
Be sure to check out Luna Park's circus sideshows, or view street art at Coney Art Walls.
Swing by Williams Candy Shop for old-fashioned favorite candies, including cotton candy and caramel apples.
Round off your day at one of Brooklyn's many craft brewery establishments at Coney Island Brewery.
If you're in the mood for an afternoon snack, stop past the original Nathan's Famous Hot Dogs — the first hot dog stand that turned into a famous chain across the country and home of the world-famous hot dog eating contest!
16. Grab Your Bait, Boat & Beer

Flowers aren't the only things to return in the spring—it's trout season again
Trout fishing officially begins on April 1 (assuming the ice has melted), so fishing enthusiasts can finally come out of hibernation and head for waters flush with Rainbow, Brook, Brown, and Lake Trout.
The Adirondacks have plenty of hot spots, such as the West Branch of the Ausable River and the waterfalls in the Chateauguay River.
17. Celebrate Asian Pacific American Heritage Month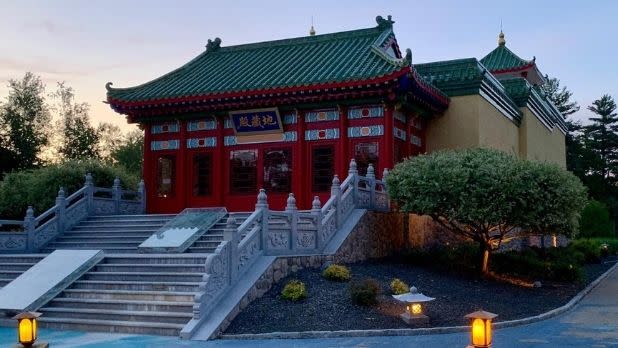 Credit: @xueyuanchen68 on Instagram
The month of May honors the culture, traditions, and history of Asian Americans and Pacific Islanders.
In Rochester, visit the Memorial Art Gallery for the Asian Pacific Heritage Celebration on May 15. While you're there, visit the Asian art gallery on the second floor featuring paintings and sculptures.
In the Hudson Valley, visit the Hammond Museum and Japanese Stroll Garden.
Mahayana Buddhist Temple, the oldest and largest Chinese Buddhist temple in the eastern US, is in South Cairo in the Catskills.
Find out more ways to celebrate Asian Pacific American Heritage in New York State here.
18. Get Soaked in Saratoga Springs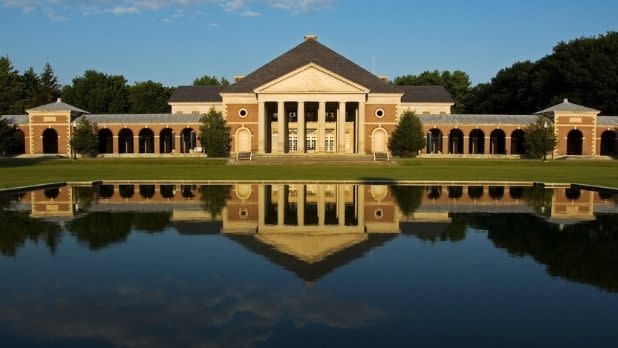 Sunday, May 8 is Mother's Day and we've got the perfect gift to show mom how much you cherish her.
Saratoga Springs is the perfect destination to take a stroll through the charming downtown, hike through the woods, or check out the local art museums and parks.
Cap it off with the pièce de résistance, a visit to Roosevelt Baths & Spa. Sign up for mineral baths in natural Saratoga spring water, massages, facials, scrubs, and body wraps in this luxurious oasis of relaxation. Mom deserves it!
19. Get Soaked Whitewater Rafting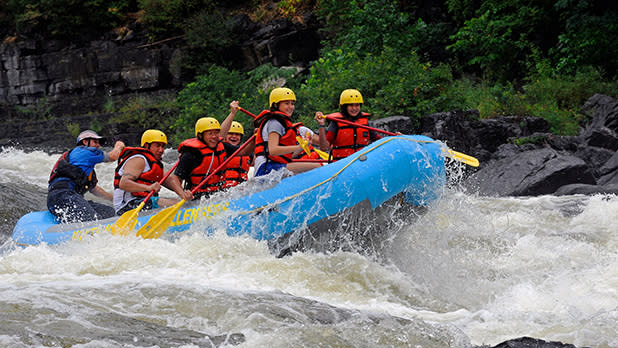 The weather might still be warming up but New York's whitewater rapids are ready to go.
Unlike summer, when rivers dry up, spring is when you'll find powerful water flow, which creates exciting rapids.
ecoxplorer Evelyn Kanter has rafted around the USA and around the world, including in Colorado, Utah, West Virginia and Chile.  One of the best rides of my life was through the headwaters of the Hudson River, in Glens Falls.
For a family-friendly guided tour down the Hudson River Gorge, let Adirondack River Outfitters show you the way. Professional river outfitters like Whitewater Challengers, Adventure Calls, and many others strike perfect balances of excitement and control for beginner-level introductions to rafting.
For a more relaxing ride with gentler waters with stunning scenery, head to Lake George in the beautiful Adirondacks with Adirondack Tubing Adventures.
For all whitewater rafting and tubing experiences, see the I Love NY guide here.
20. Find Your Castle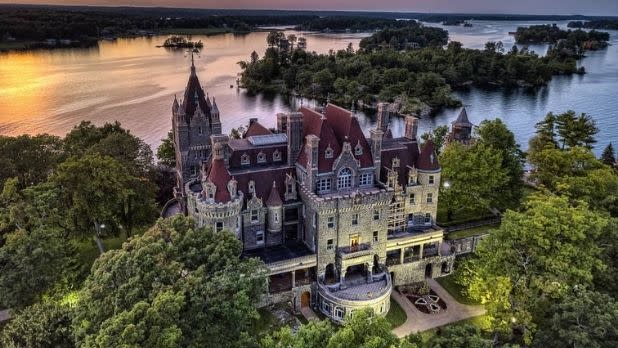 Credit: @kevinwojcik on Instagram
There's no one season to believe in fairy tales, however, the season to visit real-life castles is back.
Starting mid-May, take to the seas and island-hop the Thousand Islands region, stopping at two historic castles.
Both Boldt Castle (pictured), the family home of George C. Boldt, and Singer Castle, the former home of the president of the Singer sewing machine empire, inspire awe with their architecture, design, and remote locations. Both mansions offer guided tours of the rooms and collections, and the views on the boat ride along the way are outstanding.
Also check out Bannerman Castle in the Hudson River at Cold Spring, an easy day-trip from NYC.
21. Take a Spring Camping Trip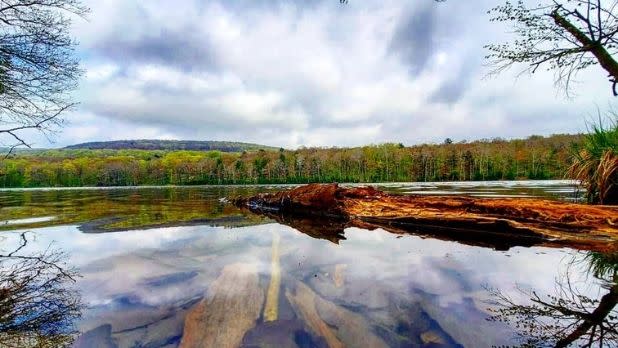 Credit: @renegade_nomad on Instagram
Get your marshmallows, graham crackers, and ghost stories ready Camping season begins for most areas of the state on May 20 (check here to make sure of dates for your particular destination).
Head to Mongaup Pond (pictured) in Livingston Manor to camp along the largest body of water in the Catskills outside of those that provide water for NYC. It's a fairly remote spot to unplug for a bit and reconnect with nature after a long winter. You'll find dense forests, wooded campsites, and a picnic area. If the lake water is too cold for swimming, BYO boat or rent one onsite to get out in the water another way. Fishing enthusiasts will find brook trout, golden shiners, yellow bullheads, and more.
There's a 1.5-mile hiking loop within the campground itself or serious hikers can connect to the Big Indian Wilderness and Willowemoc Wild Forest trails.
22. "Look Up!" at the Bethpage Air Show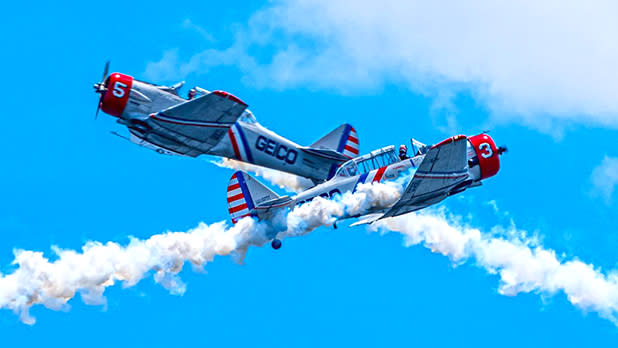 Credit: @jjtrezza on Instagram
Enjoy the  perfect Memorial Day weekend with a trip to a sandy Jones Beach on Long Island with an amazing view of jaw-dropping entertainment—all you have to do is look up!
The annual Bethpage Air Show (May 28) features world-renowned military and civilian pilots performing tricks with unbelievable agility and synchronicity. It's a popular—and free—event, so pack your blanket and some snacks and head to the beach as early as you can to claim your spot.
I love New York in spring – and also the other three seasons.
Don't forget to post photos of your New York adventures on Instagram and Twitter with #iSpyNY and tag  on Facebook!